"Power to Adjust and the Income Tax Implications and Investing under the Law - - Prudence in a Time of Uncertainty"
Date:
Wednesday, November 16, 2016
Location:
City Club downtown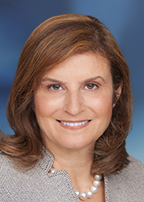 What does "prudence" really mean when it comes to investing? This presentation looks at the standards for a fiduciary investing under the Prudent Investor Act and the implications in the day-to-day administration of an estate or trust as well as the specific holdings of an estate or trust investment portfolio. The necessary interplay of the Prudent Investor Act and the Principal and Income Act is examined, as well as the income tax implications of investing as the law directs.
Gail E. Cohen, Chair of Fiduciary Trust's Board of Directors and General Trust Counsel, has over 30 years of experience in the area of trusts and estates. Ms. Cohen is a member of Fiduciary Trust's Management and Operating Committees, and is also Chair of Fiduciary Trust International of the South. She is Immediate Past Chair of the New York Bankers Association, and sits on its investment committee. She has previously served as that Association's first womanChair, and as Vice Chair, and Treasurer. In 2010 and 2011, Ms. Cohen was named one of the "Top 50 Women in Wealth," selected by AdvisorOne. Ms. Cohen is a Fellow of the American College of Trust and Estate Counsel (ACTEC). She holds the Distinguished Accredited Estate Planner® designation, has been elected into the NAEPC Estate Planning Hall of Fame, and has been honored by the Trusts and Estates Lawyers Division of the UJA. Ms. Cohen is a frequent writer and lecturer for attorney groups, including University of Miami's Heckerling Institute (2014), as well as Practicing Law Institute to the New York State Bar Association and Society ofTrust and Estate Practitioners. Before joining Fiduciary Trust in 1994, Ms. Cohen was a trusts and estates associate at the law firm of Debevoise & Plimpton. Previously, she was an associate at the law offices of Edward S. Schlesinger, P.C. She currently sits on the Investment Committee of the New York City Bar Association and is a former member of that Bar Association's Committee on Estate and Gift Tax, which she chaired from 1998-2001. Ms. Cohen is a member of the Board of Graham Windham, and serves on The Rockefeller University Committee on Trust and Estate Gift Plans, the Hospital for Special Surgery Advisory Council, the New York Historical Society Professional Advisory Committee, and the Professional Advisory Committee of the Jewish Federation of South Palm Beach County. She has served as an adjunct professor of law at Brooklyn Law School. Ms. Cohen received a B.A. from Mount Holyoke College and a J.D., summa cum laude, from Brooklyn Law School. She is admitted to the bar in New York and New Jersey.